Scatter Radiation is Unavoidable, Physician Protection is Not
Radiation Therapy is a powerful tool in medicine, especially when used to treat cancer. Radiation works by killing and slowing the growth of cancer cells – but it can also damage healthy cells in the process, which can increase the risk of developing cancer in the future.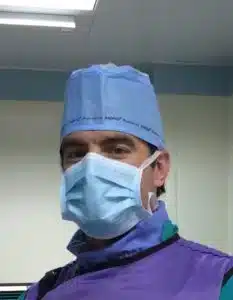 In 2017, approximately 80,000 new cases of brain tumors are expected to be diagnosed, with roughly 26,000 of those being malignant cases.¹ This depicts brain and other central nervous system cancer as the 10th leading cause of death in both men and women, and an estimated 16,700 individuals are expected to die from primary brain cancer this year.²
While healthcare providers are diligent in their efforts to keep patients safe from scatter radiation, it is also important for providers to consider their safety when performing these procedures. Scatter radiation is secondary radiation that deflects from an object, most commonly the patient, during procedures, and can affect the healthcare provider's brain in the process.
RADPAD® from Worldwide Innovations & Technologies is a full line of radiation protection products that are dedicated to protecting hospital staff during fluoro-guided procedures.
The RADPAD® No Brainer® is an attenuation material-lined scrub cap worn by cath lab personnel that protects the brain from scatter radiation during fluoro-guided procedures. The RADPAD® is also available as a thyroid shield and a full-length protection sleeve to cover the neck and arms of the physician during these procedures. The RADPAD® Table Skirt anchors to the table in the cath lab to block scatter radiation that flows from below the table, and the RADPAD® Specialty Shields create a shade zone where the physician can work from.
To learn more about how you can protect yourself and your patients with the RADPAD®, contact your local MED Alliance Representative, call 888-891-1200 or email us.
¹ American Brain Tumor Association®. (2017). Brain Tumor Statistics. Retrieved from http://www.abta.org/about-us/news/brain-tumor-statistics/?referrer=https://www.google.com/
² Cancer.Net. (June 2016). Brain Tumor: Statistics. Retrieved from https://www.cancer.net/cancer-types/brain-tumor/statistics