Ensure Quality and Help Prevent Blood Wastage with the MaxPlus Blood Shippers
Donated blood, plasma and other blood products are valuable resources that help millions of patients each year. The viability of these products is of the utmost importance for hospitals and patients alike, and the sensitive nature of these biologics means that they must be treated with extreme care.
Storing blood and blood products in recreational type coolers does not accomplish this. In fact, using recreational type coolers can result in 5-25% blood wastage, costing hospitals and facilities millions of dollars per year.
The MaxPlus Blood Coolers are designed and validated specifically for the transport and storage of blood products like whole blood, red blood cells, platelets and donor specimens. MaxPlus Coolers are engineered with MAXIFY proprietary materials to ensure precise and consistent temperature performance.
MaxQ offers a variety of blood coolers to fit the different blood transport and storage needs of most facilities.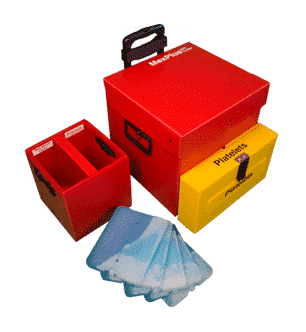 MaxPlus Massive Transfusion Protocol Cooler (MTP 2.0)
Storage and transportation for packed red blood cells, thawed plasma and platelets at precise temperatures
• Validated up to 12 hours
• One cooler replaces up to 3 coolers for each MTP request
• Packs in seconds
• Operationally qualified pack-out simplifies validation and implementation
• Concise, ergonomic form-factor with built-in wheels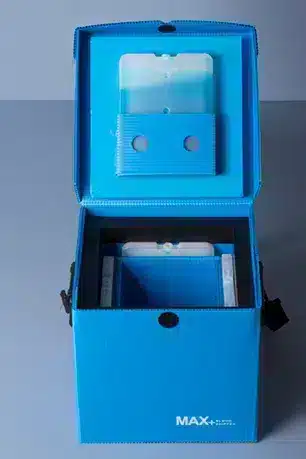 MaxPlus Blood Cooler
No-bench-time blood storage and transportation coolers
• Refrigerated (1°C to 6°C), Room Temperature (20°C to 24°C)
• Longest temperature hold time
• Pre-qualified
• Portable, lightweight, reusable and economical
• Optimize blood utilization by reducing waste
• Packed red cells, whole blood, platelets, plasma, tissue, organs and more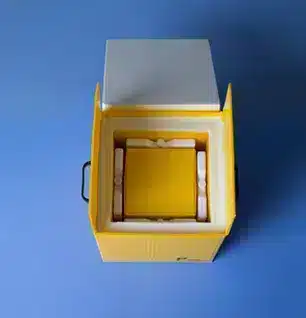 MaxPlus Platelet Shipper
Shipping cooler for blood bank platelet export and hospital distribution
• Controlled room temperature (20°C to 24°C)
• Proven protection against product loss
• 250% more payload in packages
• 45% smaller and lighter than competitive coolers, can save up to 30% in shipping costs
• Packs 1-12 platelet units
• Pre-qualified for 24 hours (summer and winter ambient)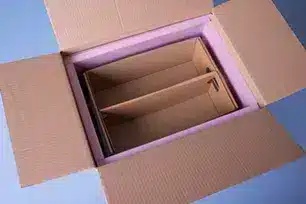 MaxPlus Red Blood Cell Shipper
Purpose-designed for blood bank export of red blood cells
• Unprecedented thermal performance with space-optimizing design
• Pre-qualified for up to 48 hours
• Safely reduce cost with longer shipping times
• Highest ratio of payload capacity to package size
• Ship more product in less space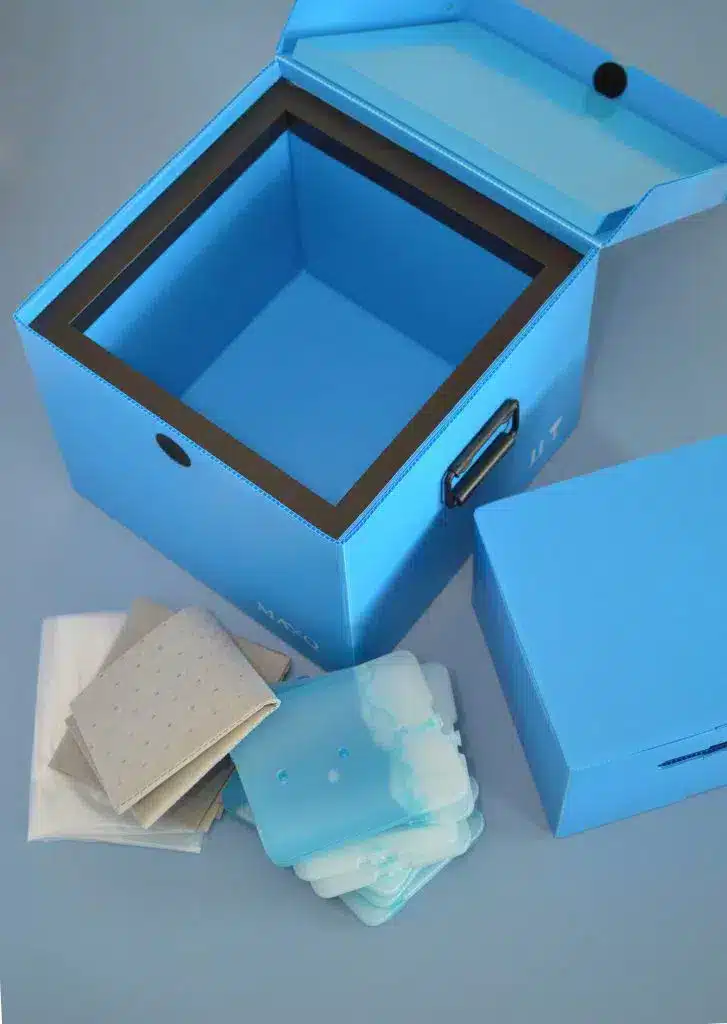 MaxPlus Donor Tube Shipper
Purpose-designed for donor specimen export and delivery
• Longest thermal hold and shipping times
• Donor tube-specific testing and qualification
• High-capacity dimensional weight design
• Pre-qualified for 24, 48+ hours (summer and winter ambient)
• Packs 1-512 Vacutainers® with the highest ratio of payload capacity to package size
• Precision-engineered and customized pack-outs for different payload classes and distribution stages
MaxPlus EMT Cooler
Validated cooler for Emergency Medical Transport & Air Evac Operations
• No-Bench-Time preconditioning required
• Universal (all season) protection
• Optimized for quick deployment
• Validated for 24 hours
• Proven MaxPlus Protection – eliminates loss
• Holds 2 (500 mL) whole blood units
MaxPlus COVID-19 Specimen Shippers
MaxPlus STAT Pouch
• Easy to pack
• Quick deployment
• Single-use
• Instant activation
• No coolants, no conditioning
• Refrigerated (2-8° C)
• 5-10 specimen tubes
MaxPlus Specimen Export Shippers
• Easy to pack
• Quick deployment
• Enhanced flexibility in all shipping ambient environments
• Blood specimens and swabs
• One-way and reusable available
• Validated shipping 24-72 hours
• Frozen or refrigerated
• Up to 100 specimens
To learn more about MaxQ and the MaxPlus solutions, call 888-891-1200 or email us to be connected to your local sales representative.
MED Alliance Group is an ISO 13485 certified medical device distributor with more than 350 years of combined medical device sales and distribution experience. Dedicated to meeting the needs of its clinical customers and manufacturing partners, MED Alliance offers cost effective, customized sales, logistics, and distribution solutions for products found in anesthesia/respiratory, blood/transfusion therapy, EMS/emergency room, interventional radiology/cath lab, iv/vascular and NICU/PICU.
Please follow us on LinkedIn, Facebook and Twitter for MED Alliance product updates.