Determine if blood product has fallen outside of appropriate temperature range with Safe-T-Vue® Temperature Indicators
Although someone needs blood every two seconds, only 10% of the population donates. [1] Blood supplies are often low, meaning blood banks, blood collection centers and transfusion services must do everything they can to preserve valuable blood supplies. When blood units are dispatched, how do staff know that unused, returned blood has been maintained at the required temperature during transit and storage?
Zebra Safe-T-Vue® Temperature Indicators help staff visually determine if blood product temperature has fallen outside of the appropriate temperature range and whether it can be returned to inventory or if it needs to be discarded.
Safe-T-Vue® Temperature Indicators by Zebra
The easy-to-use Safe-T-Vue® Temperature Indicators are heat-sensitive and easily adhere directly to blood bags. Safe-T-Vue® alerts users when blood products are exposed to potentially damaging temperatures. The indicators are a cost-effective, reliable and simple way to promote quality for blood banks and transfusion services.
Safe-T-Vue® Temperature Indicators Benefits
Accuracy of +/

–

0.4

°

C, which helps reduce unnecessary blood wastage

Easy to interpret with

a round, easy-to-see

open viewing window

–

showing

either white, speckled

red, or red

Warns when units are

reaching an unsafe temperature

so corrective

action can be taken to

save the unit

Can be pre-applied and activated,

pre-applied and activated upon issue or applied and activated upon issue

Constantly monitor the

temperature of the blood

product for the life of the

unit

Each new lot of Safe-T-

Vue comes with a QA Lot

performance report

Zebra provides validation procedures and offers support to customers performing their first validation using the product

Formally approved by AABB

in their

Standards

–

Compliant Product

Evaluation (

SCoPE

) program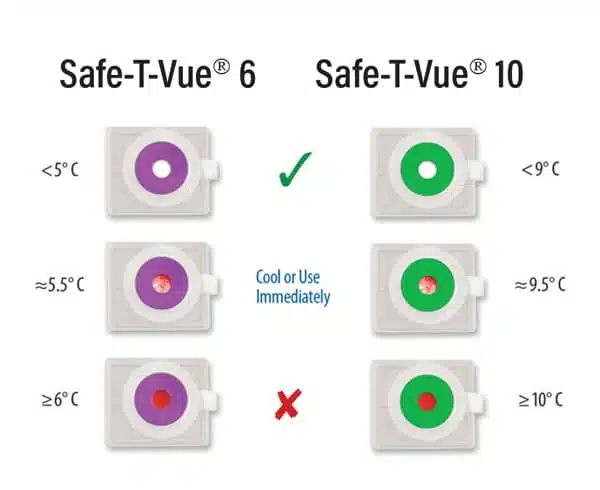 To learn more about the Safe-T-Vue® Temperature Indicators from Zebra please call 888-891-1200 or email us to be connected to your local sales representative.
MED Alliance Group is an ISO 13485 certified medical device distributor with more than 350 years of combined medical device sales and distribution experience. Dedicated to meeting the needs of its clinical customers and manufacturing partners, MED Alliance offers cost-effective, customized sales, logistics, and distribution solutions for products found in anesthesia/respiratory, blood/transfusion therapy, EMS/emergency room, interventional radiology/cath lab, iv/vascular, NICU/PICU and pharmacy.
Please follow us on LinkedIn, Facebook and Twitter for MED Alliance product updates.