Study Shows Swaddle Bathing Decreases Newborn Behavioral Stress Symptoms
In a 2017 study1, researchers examined infant crying duration and other physiological responses during traditional tub bathing and swaddle bathing.
STUDY DESIGN AND METHODS
40 babies received traditional tub bathing.
40 babies received swaddle-bathing.
Babies in each group showed no statistically significant difference in terms of gestational week, APGAR score, postnatal age or body weight.
All newborns were bathed within 24 hours after birth.
Environmental variables were organized identically in both experimental and control groups.
Bath time duration was a maximum of 5 minutes in both groups.
Heart rate, body temperature and oxygen saturation values were evaluated before, immediately following and 10 minutes after bath time.
Stress levels were evaluated pre-bath and post-bath using the Newborn Infant Pain Scale (NIPS).
STUDY FINDINGS
The study found that out of each baby observed, those in the swaddle-bathing group had significantly higher body temperatures 10 minutes after bath time than those in the traditional tub-bathing group. The heart rate of those in the traditional tub-bathing group was higher after baths were given. Post-bath NIPS scores in the traditional tub-bathing group were increased while scores in the swaddle-bathing group had decreased. Swaddle bathing is an effective method at maintaining body temperature, SpO2 levels and heart rate.
The study concluded that babies observed during swaddle bathing had decreased crying, agitation and less movement, indicating that swaddle bathing may decrease stress symptoms during bath time.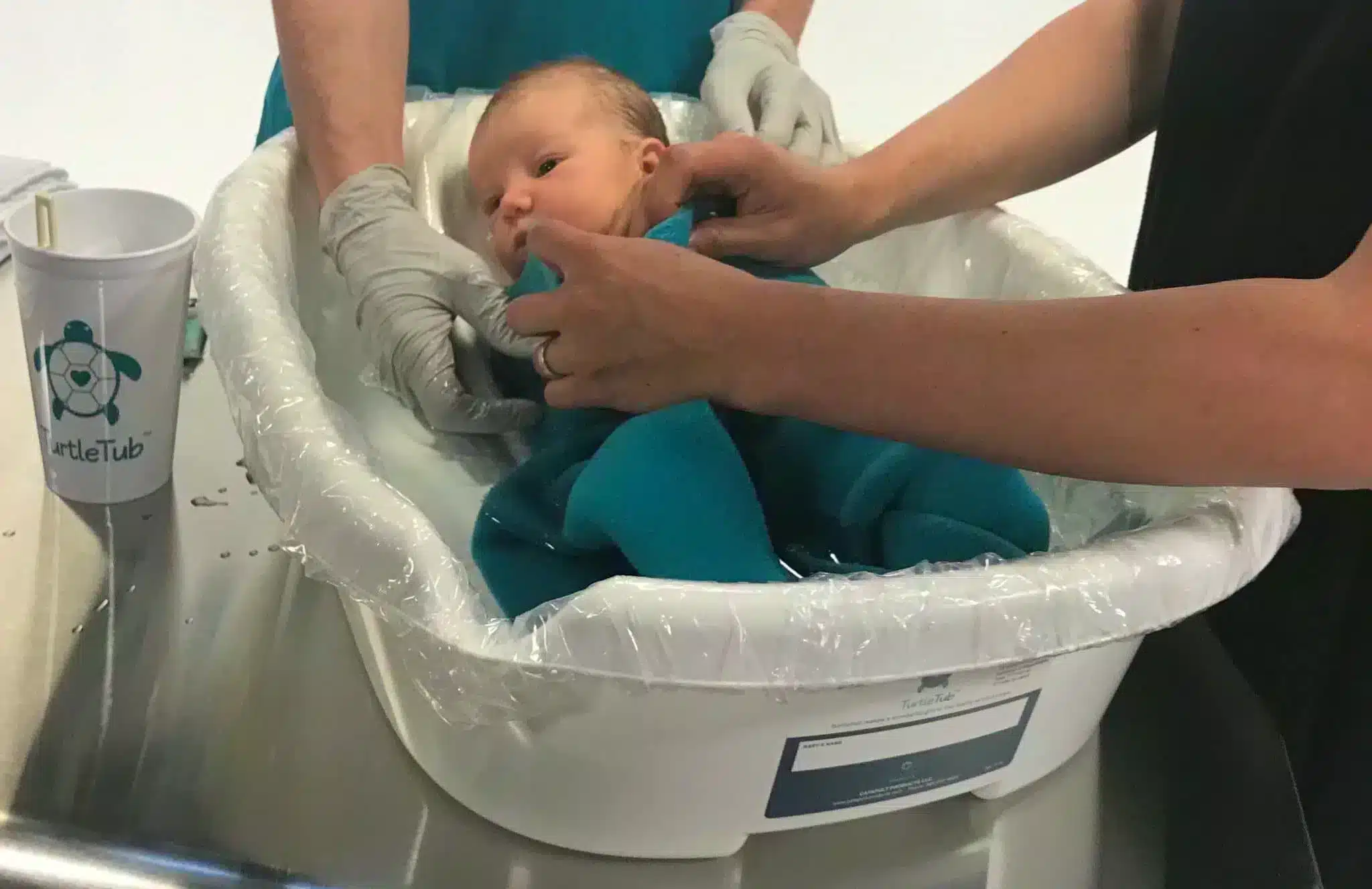 THE TURTLETUB SWADDLE-BATHING SYSTEM WAS DESIGNED TO BRING POSITIVE IMPACTS DURING BATH TIME
The TurtleTub is a swaddle-bathing system designed for NICU and Well-Baby units. The TurtleTub features ribs and high sides to support the infant, and a fleece blanket with thermal properties to help maintain the baby's body temperature during the entire bath. Additionally, a temperature strip is featured within the tub so water temperature can be monitored and maintained consistently.
To learn more about how the TurtleTub swaddle-bathing system can help decrease stress symptoms in your NICU or Well-Baby Unit, please email us or call us at 888-891-1200.
MED Alliance Group is an ISO 13485 certified medical device distributor with more than 350 years of combined medical device sales and distribution experience. Dedicated to meeting the needs of its clinical customers and manufacturing partners, MED Alliance offers cost-effective, customized sales, logistics, and distribution solutions for products found in anesthesia/respiratory, blood/transfusion therapy, EMS/emergency room, interventional radiology/cath lab, iv/vascular, NICU/PICU and pharmacy.
Please follow us on LinkedIn, Facebook and Twitter for MED Alliance product updates.
References
1 https://onlinelibrary.wiley.com/doi/full/10.1111/jspn.12202