Statistically Significant Superiority for Both EtCO2 Measurement and Oxygen Delivery
A leading cause in preventable adverse outcomes in sedated patient cases is failure to use or correctly interpret capnography in detecting respiratory depression.[1] Not every EtCO2 monitoring cannula consistently provides both accurate EtCO2 monitoring and the necessary supplemental O2 delivery. In fact, in a clinical study, the Salter Divided Sampling Cannula was the only nasal sampling cannula to demonstrate statistically significant superiority for both EtCO2 measurement and oxygen delivery.[2]
Insist on Proven Performance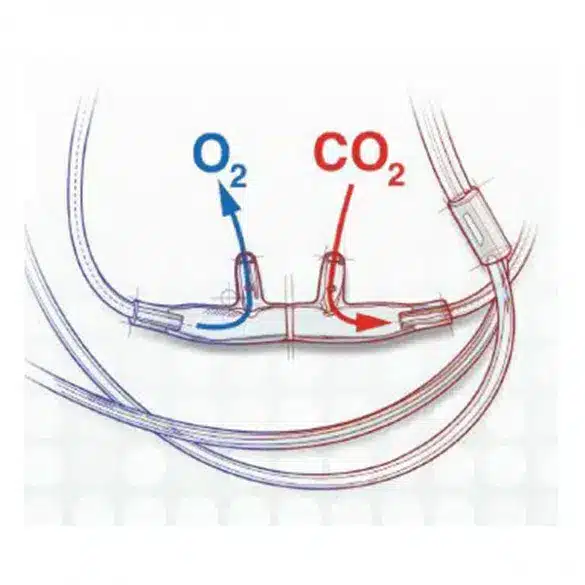 Divided cannulas provide accurate undiluted CO2 readings within 2-4 mm Hg of arterial CO2. 2,3 The divided face piece design of the Salter Divided Nasal Sampling Cannulas separates O2 delivery from CO2 monitoring, allowing flexibility to vary O2 rates without affecting CO2 readings.2 The divided nasal sampling cannulas enable true EtCO2 sampling and effective O2 delivery without limitations at higher lpm rates.1,[3]
Safety and Comfort
The divided nasal cannulas from Salter Labs feature Salter Eyes – an innovative, patented design created by anesthetists for anesthetists. The Eyes provide safety apertures in each prong to reduce the possibility of occlusions.[1] Divided sampling cannulas also feature a soft headset tubing for more patient comfort.
To learn more about the divided nasal sampling cannula from Salter Labs, please email us or call 888-891-1200.
MED Alliance Group is an ISO 13485 certified medical device distributor with more than 350 years of combined medical device sales and distribution experience. Dedicated to meeting the needs of its clinical customers and manufacturing partners, MED Alliance offers cost effective, customized sales, logistics, and distribution solutions for products found in anesthesia/respiratory, blood/transfusion therapy, EMS/emergency room, interventional radiology/cath lab, iv/­­vascular and NICU/PICU.
Please follow us on LinkedIn, Facebook and Twitter for MED Alliance product updates.
---
References
[1]  Cook TM, Woodall N, Harper J, Benger J, on behalf of the Fourth National Audit Project. Major complications of airway management in the UK: results of the Fourth National Audit Project of the Royal College of Anaesthetists and the Difficult Airway Society. Part 2: intensive care and emergency departments. Br J Anaesth. 2011;106(5):632-642. doi:10.1093/bja/aer059
[1] Ebert TJ, Novalija J, Uhrich TD, Barney JA. The effectiveness of oxygen delivery and reliability of carbon dioxide waveforms: a crossover comparison of 4 nasal cannulae. Anesth Analg. 2015;120(2):342-438
[1]  Roth JV, Barth LJ, Womack LH, Morgenlander LE. Evaluation of two commercially available carbon dioxide sampling nasal cannulae. J Clin Monit. 1994;10(4):237-243
[1] Salter Labs Technical Report 006