EOlife X: The Ultimate Training Tool for High-Performance Ventilation
For years, CPR training focused mainly on the quality of chest compressions to enable blood circulation to the brain and heart. Unfortunately, this left many students and experienced professionals struggling to perform adequate ventilation.

More recently, ventilation quality is becoming a crucial part of CPR training. However, current manual ventilation is tough to teach and training is inadequate.
No manikin on the market actually measures insufflated volume, exhaled volume or gas leakages to improve a student's mask-sealing technique. The only way trainers can gauge whether ventilation is effective is by watching the manikin's chest rise, which in no way indicates whether the correct volume was administered at the appropriate frequency.
It is imperative for trainees to learn high-performance ventilation. There is no high-performance CPR without high-performance ventilation.
High-performance ventilation encompasses:
Providing adequate volume while minimizing the risk of gastric inflation
Avoiding excessive gas leakage which can result in inadequate ventilation of the patient's lungs
Avoiding hyperventilation
EOlife X IS THE ULTIMATE TRAINING TOOL FOR HIGH-PERFORMANCE VENTILATION
Winner of the 2022 EMS World Innovation Award, the EOlife X from Archeon Medical is a unique and innovative CPR manual ventilation training device that teaches proper airway management and good ventilation.
EOlife X adapts to each bag, mask and tracheal tube to measure and give real-time, visual feedback on insufflated volume, exhaled volume as well as ventilation rate and gas leakage. What is not measured, can not be improved.
Ninety percent of trainees provide quality ventilation at their first training with EOlife X. By providing visual feedback, the device increases the quality of manual ventilation by 70% and reduces the risk of hyperventilation tenfold.³
EOlife X teaches users how to put the "P" back in CPR.
Choose the appropriate mask size
Position and seal the airway mask more effectively to prevent air leaks
Correctly use the jaw-thrust maneuver to avoid insufflation of air into the stomach
Squeeze the bag and adapt the delivered volume and rate to the patient to avoid hyperventilation
WHAT USERS ARE SAYING
"This device is changing practice! I've been using this product for about a year in statewide training in the commonwealth and its impact in BVM training has been amazing! Being an independent piece of equipment, it is available for all provider levels, with or without a 'tube'."
~ Bob Page, Statewide CE Educator at Virginia Office of EMS
"The EOlife X has improved our training significantly. I was surprised to see how poorly we were providing ventilation without this device. We were providing too little volume, and too quickly, over time, this would cause hypoxia and hypercarbia and acidosis in our patients.
~ Jevon Tomaschko Chief of Operations, EMT-P, Brighton Volunteer Ambulance, NY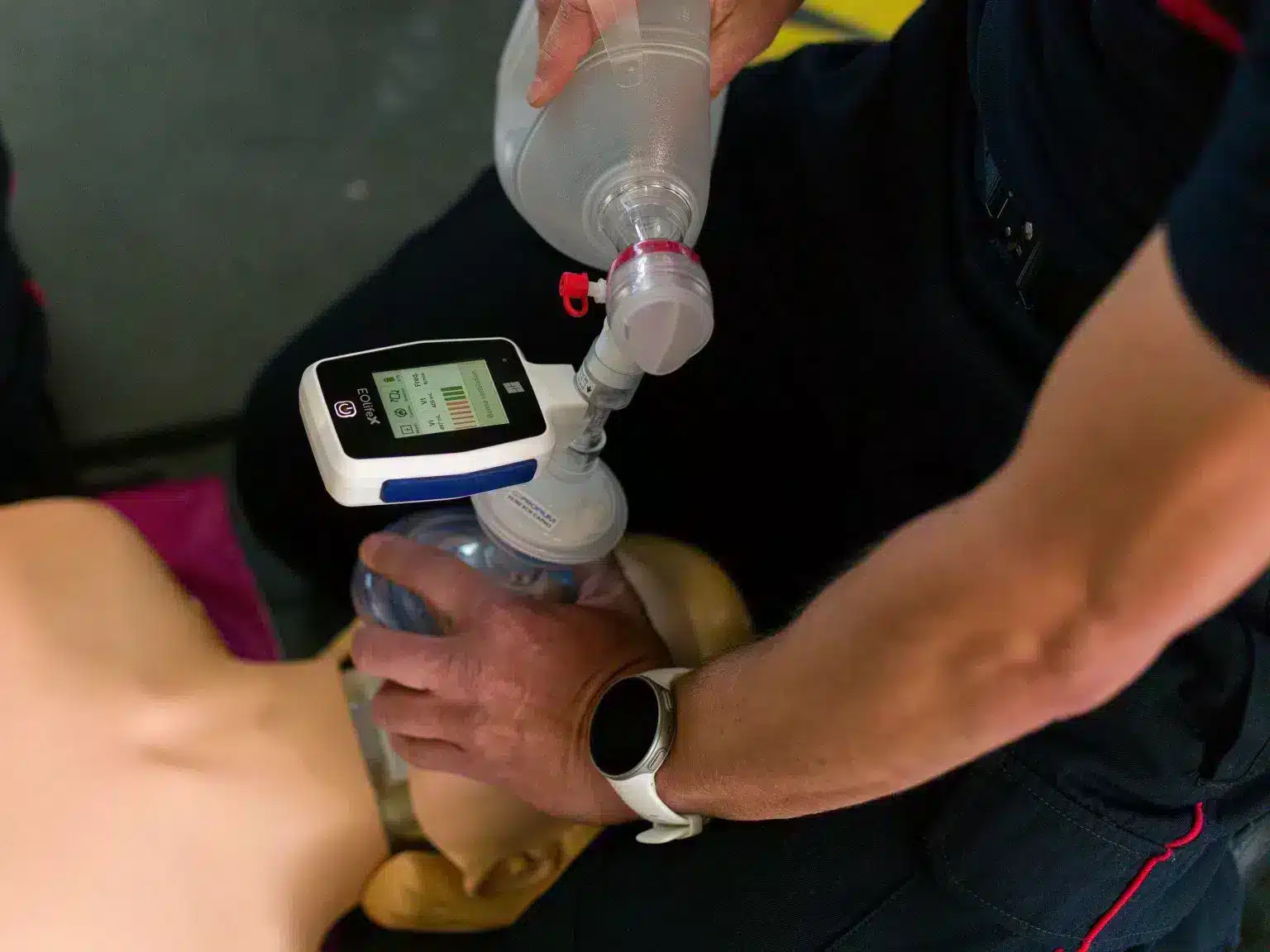 For a demonstration or more information about the EOlife X from Archeon, contact your local MED Alliance Group sales representative, call 888-891-1200 or email us.
MED Alliance Group is an ISO 13485-certified medical device distributor and has been dedicated to meeting the needs of our clinical customers and manufacturing partners since 1998. We specialize in the sales, marketing, importation, logistics and distribution of innovative, high-quality and cost-effective products found in anesthesia and respiratory, blood and transfusion therapy, EMS and emergency room, interventional radiology and cath lab, iv and vascular, NICU/PICU, and pharmacy.
Please follow us on LinkedIn, Facebook and Twitter for MED Alliance product updates.
Reference
(1) This is the result of a study carried out in 2022 in the University Hospital of Paris where BVM ventilation was measured in "blind".
(2) https://www.hindawi.com/journals/bmri/2016/4521767/
(3) Khoury A, De Luca A, Sall FS, Pazart L, Cappelier G. Ventilation feedback device for manual ventilation in simulated respiratory arrest: a crossover manikin study. Scand J Trauma Resusc Emerg Med. 2019 Oct 22;27(1):93