Sapphire Multi-Therapy Pump: One Infusion Pump, Multiple Therapies
Accurate infusion care that is simple, fast, effective, and future-ready
Be empowered with a complete infusion system that delivers multiple therapies, for home care, hospitals, and ambulatory settings. Sapphire drives the future of infusion care. 
Compact, lightweight device that is intuitive and easy to use
Consistent accuracy with robust performance
Smart technology that helps you minimize dosage errors and false alarms
Optimized Patient Outcomes for the Long-Run
The Sapphire pump is a sturdy performer packed in a small, simplified design. Programming is quick and easy on its intuitive touchscreen, for setting its feature-rich functionality that combines patented magnetic flow control innovation. With its maximized reliability, low-flow continuity, and built-in adaptability that meets any new requirement, Sapphire simplifies patient care with confidence for the long-run.
The Sapphire Advantage
One infusion pump, multiple therapies
Exceptional ease that drives patient safety
Future-ready care and confidence
Thrive with a low total cost of ownership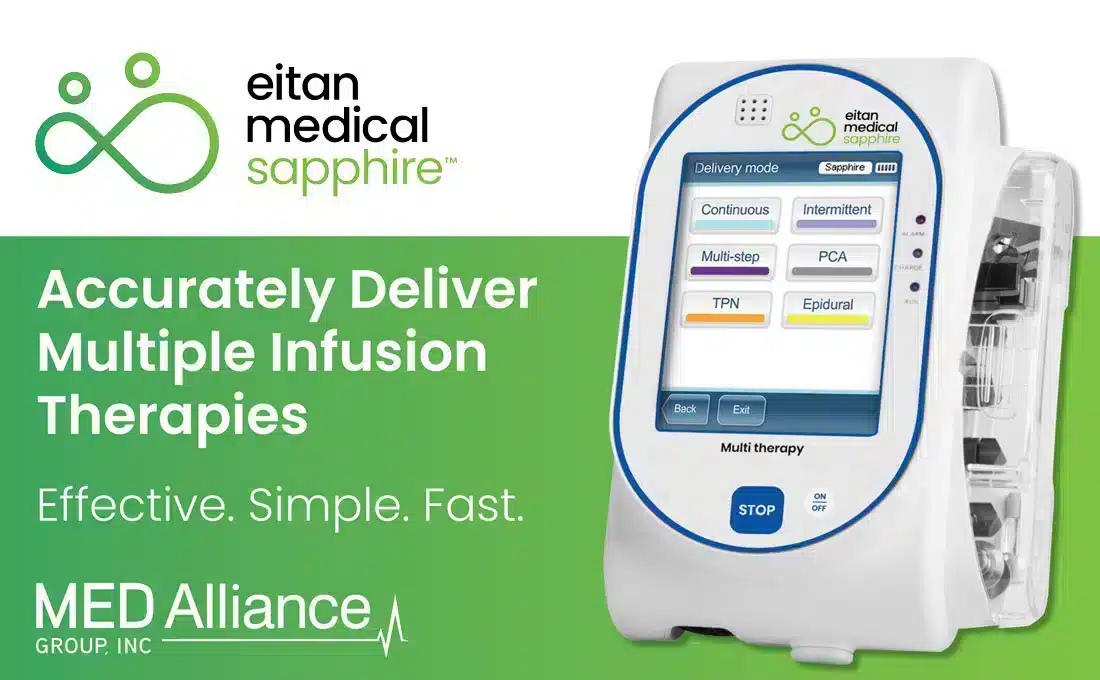 For more information about the Sapphire Multi-Therapy Infusion Pump or to schedule a demonstration, call 888-891-1200 or email us to be connected to a local representative.
MED Alliance Group is an ISO 13485 certified medical device distributor and has been dedicated to meeting the needs of our clinical customers and manufacturing partners since 1998. We specialize in the sales, marketing, importation, logistics and distribution of innovative, high-quality and cost-effective products found in anesthesia and respiratory, blood and transfusion therapy, EMS and emergency room, interventional radiology and cath lab, iv and vascular, NICU/PICU and pharmacy.
Please follow us on LinkedIn, Facebook and Twitter for MED Alliance product updates.