January Is National Blood Donor Month – Have You Donated?

Did You Know:Someone in the United States needs blood every two seconds.1
January is National Blood Donor Month, and the American Red Cross has issued an urgent call for donors.2 There was a shortfall of approximately 27,000 donations over the winter holiday season. As of January 14th, the Red Cross had less than a three-day supply of blood on hand for most blood types – the ideal supply for medical emergencies and daily hospital needs is a five-day supply.3
The harrowing truth is blood and platelets can only come from volunteers and donors, and less than 37% of the United States population is eligible to donate, with less than 10% of those eligible donating annually.4
Here are some other facts about blood donation, according to the Community Blood Center4:
5 million Americans need a blood transfusion each year.
43,000 pints: amount of donated blood used each day in the U.S. and Canada.
About one in seven people entering a hospital need blood.
One pint of blood can save up to three lives.
The actual blood donation usually takes about 10 minutes. The entire process – from the time you sign in to the time you leave – takes about an hour.
The number one reason blood donors say they give is because they want to help others.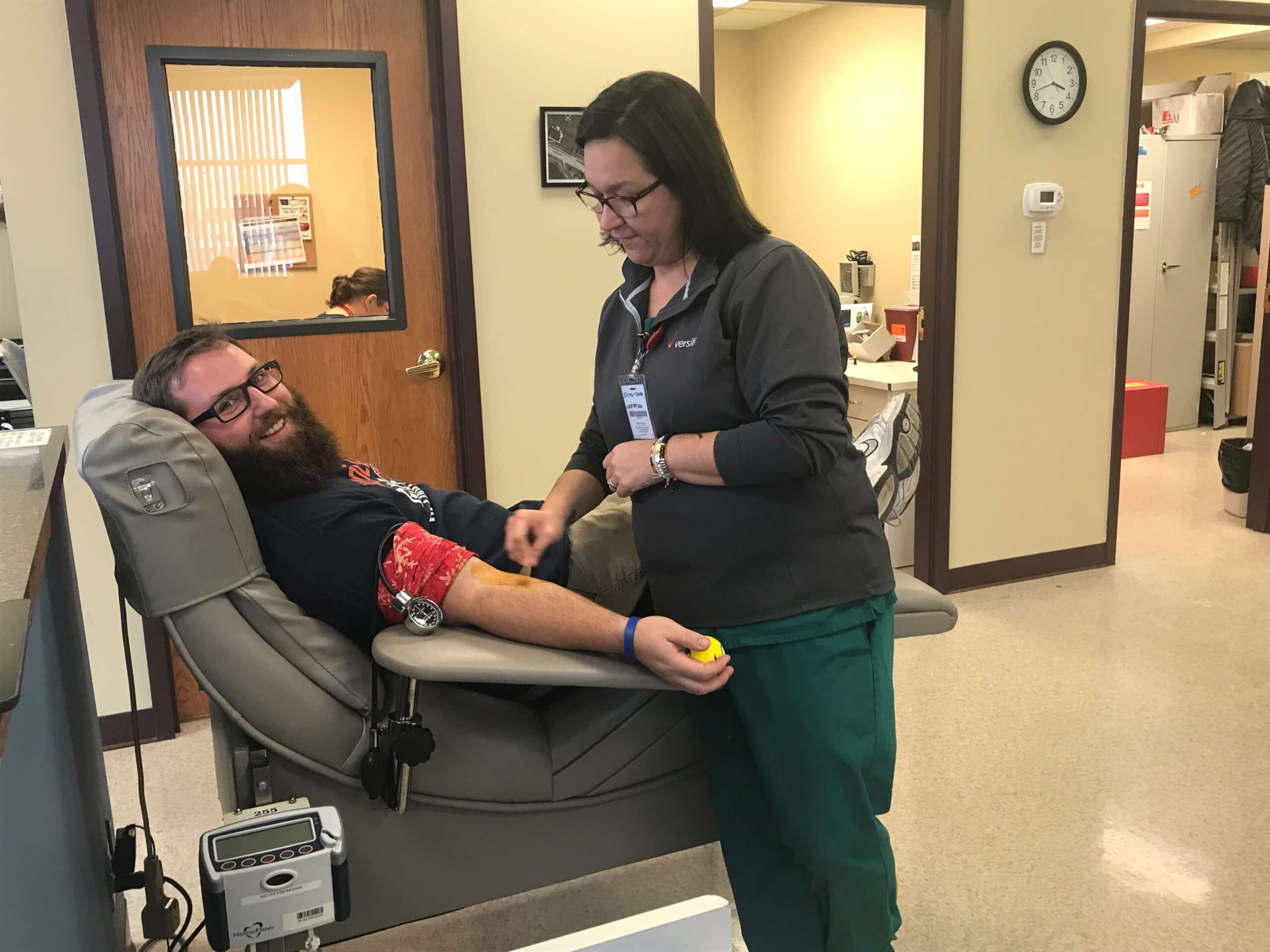 "I'm O+, which means I am basically universal and can donate to anyone," said Mason Graham of MED Alliance. "I would encourage someone else to donate blood because if there was ever a time where you were in need of blood, you'd wish someone donated for you."
MED Alliance's Gretchen Freise said, "I have donated in the past because I wanted to help people. I always try and put myself in other's shoes and would want others to help me if I needed blood. I would encourage everyone to donate, especially people who have rare blood types."
On Wednesday, January 16th, Mason and Gretchen, along with Christie Penzol, Sarah Moudy, Tory Herbst and Austin Culton from the MED Alliance team, went to the local Heartland Blood Center to donate blood, where all six were successfully able to donate in about an hour.
First-time donor, Austin, said, "I was hesitant to agree to donate at first, but then I realized how many lives could be saved by me donating."
"It was a little nerve-wracking being my first time donating," said other first-time donor, Tory, "but the people working there were helpful and kind, and the process itself was easy and comfortable. I decided to donate because I know how many people have to rely on blood donations to maintain their health and in emergency situations."
For others, not only did they want to save lives, but they also had an emotional connection to blood donations which encouraged them even more.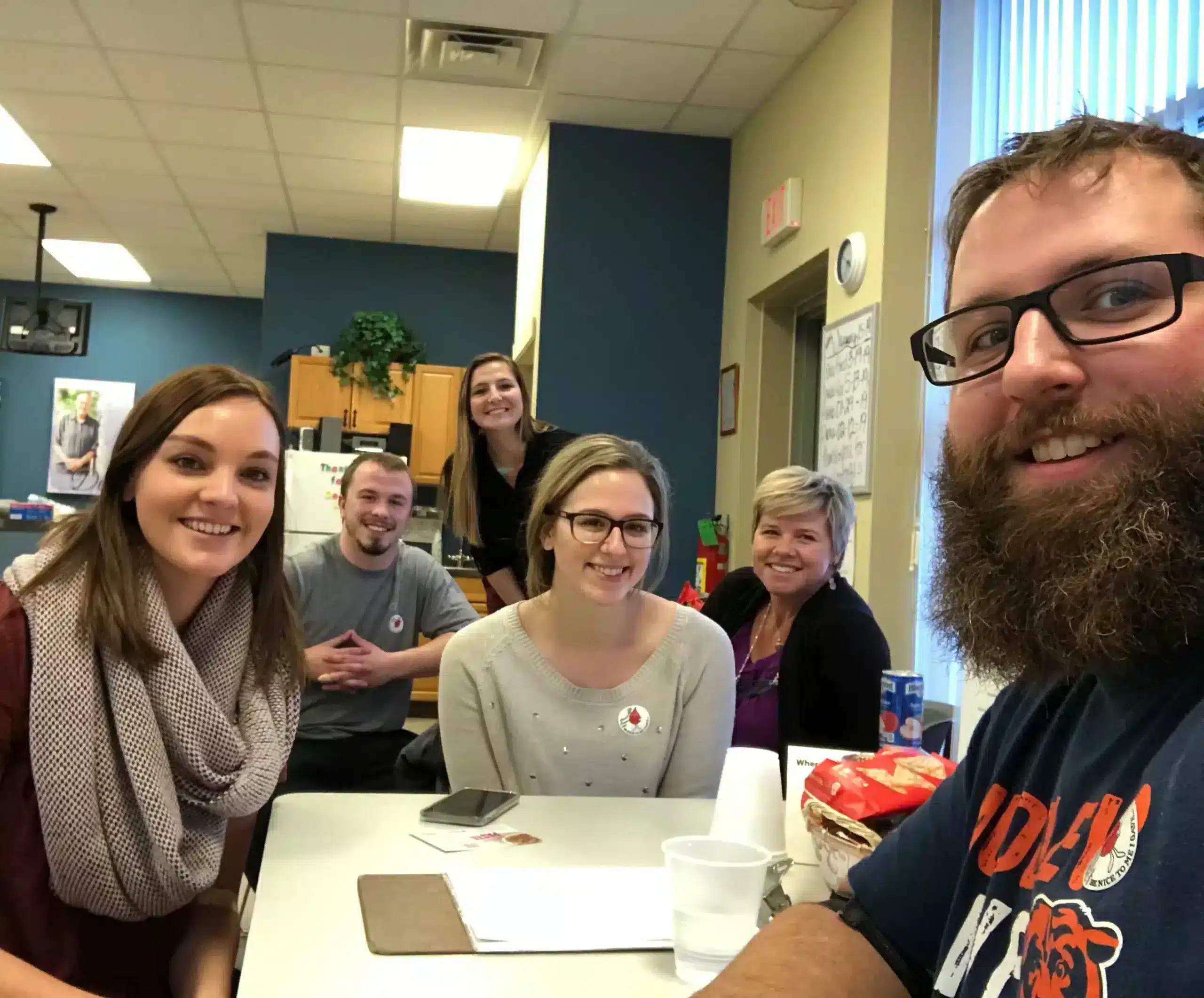 "Hearing a friend's personal experience who needed multiple units of blood was a wake up call for me," said Christie. "Once you really let yourself think about what donating your blood means to others in need, how can you not take the time?"
As a distributor of multiple blood and transfusion therapy products, MED Alliance Group employees typically see the other side of blood donations. After hearing about the recent shortage and that January is National Blood Donor Month, several of the staff made the decision to do their part.
Looking to donate? Please visit your local blood donation center or click here to find a donation center near you.
MED Alliance Group is an ISO 13485 certified medical device distributor with more than 350 years of combined medical device sales and distribution experience. Dedicated to meeting the needs of its clinical customers and manufacturing partners, MED Alliance offers cost effective, customized sales, logistics, and distribution solutions for products found in anesthesia/respiratory, blood/transfusion therapy, EMS/emergency room, interventional radiology/cath lab, iv/vascular and NICU/PICU.
Please follow us on LinkedIn, Facebook and Twitter for MED Alliance product updates.
References
1 https://www.redcrossblood.org/donate-blood/how-to-donate/how-blood-donations-help/blood-needs-blood-supply.html
2 https://www.beckershospitalreview.com/supply-chain/red-cross-issues-urgent-call-for-blood-donors.html?origin=schaine&utm_source=schaine
3 https://wpta21.com/news/top-stories/2019/01/14/american-red-cross-asking-for-donations-due-to-holiday-shortage/