Air-Q3 Supraglottic Airway Now In Neonatal Sizes
Air-Q®3 is now available with the smallest supraglottic airway for your most fragile infant patients.
The new size 0 and 0.5 sizes come in all four Air-Q3 styles including self-pressurizing and gastric models.
The self-pressurizing option allows for insertion and ventilation with no additional steps. The self-pressurizing cuff inflation is controlled by inspiratory/expiratory pressure. No inflation is needed.
The gastric access version helps with secretions and air in the stomach. 
Perfect Placement Made Easy
Color-coded connector for easy size

identification.

The removable tethered connector

enables insertion of the endotracheal tube through

the airway tube.

Anatomically curved, medical-grade silicone

airway tube with an integrated bite block.

Exclusive epiglottis elevator lifts the epiglottis

to maximize cuff placement.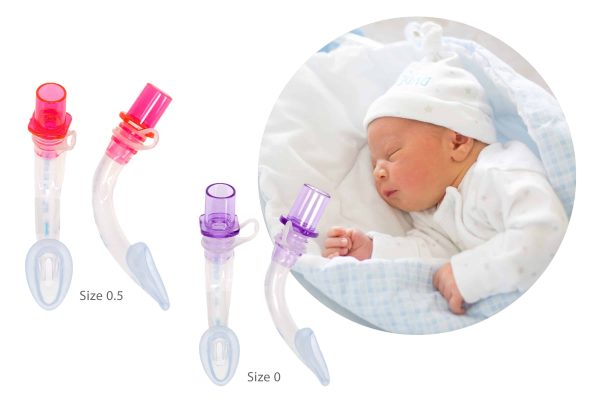 Air-Q3 Models Include:
Air-Q3 – Provides exceptional ease of ETT placement when unexpected intubation is required.
Air-Q3G – Features extra wide gastric inlet access and two gastric channels that accommodate NG tubes up to 18Fr.
Air-Qsp3 – Uses positive pressure ventilation to self-pressurize the cuff. Cuff pressures cycle between peak airway pressure and PEEP levels.
Air-Qsp3G – Features extra wide gastric inlet access, two gastric channels that accommodate NG tubes up to 18 Fr and a self-pressurizing cuff that utilizes a positive-pressure ventilatory source.
Each Air-Q3 model is available in a wide range of sizes: 0, 0.5, 1.0, 1.5, 2, 3, 4, and 5; appropriate for patients weighing < 2.0 kg to >80 kg.
Click here for additional information.
To learn more about the Air-Q3 or request a demonstration, email us or call 888-891-1200.
MED Alliance Group is an ISO 13485-certified medical device distributor with more than 350 years of combined medical device sales and distribution experience. Dedicated to meeting the needs of its clinical customers and manufacturing partners, MED Alliance offers cost-effective, customized sales, logistics, and distribution solutions for products found in anesthesia/respiratory, blood/transfusion therapy, EMS/emergency room, interventional radiology/cath lab, iv/vascular and NICU/PICU.
Please follow us on LinkedIn, Facebook and Twitter for MED Alliance product updates.