The Latest Mass Casualty Incident Causing Morgue Overcapacity
It's been called a crisis, an epidemic, and even an opioid tsunami.
More than 64,000 Americans died from a drug overdose in 2016, a 22% increase from 2015. 1
The National Institute on Drug Abuse chart below shows the overwhelming trend in overdose deaths since 2000. The statistics speak for themselves, so much so that President Trump signed an executive order in March 2017 establishing the President's Commission on Combating Drug Addiction and the Opioid Crisis.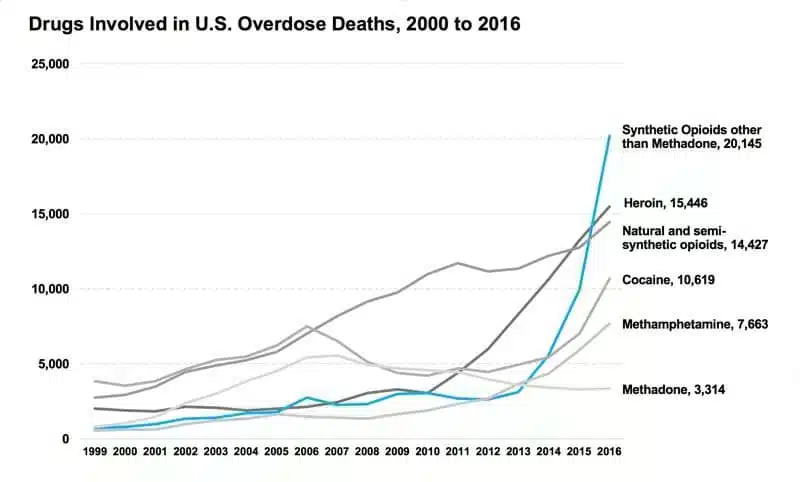 According to a 2016 CDC report, the US death rate increased for the first time in two decades due in part to a record high number of deaths from drug overdoses.2
Morgues across the U.S. have felt the influx and are literally overflowing with bodies due to drug overdose deaths.
With a capacity to hold 20 bodies, a morgue in St. Louis County Missouri has had to put two bodies on one cart to accommodate as many as 30 corpses in their care.3
Other morgues have turned to refrigerated trailers to accommodate the overflow.
Originally intended for terrorist attacks or mass casualty incidents such as train or plane crashes, mobile morgue trailers are now a common solution being used when morgues reach capacity.
MED Alliance Group offers morgue trailers for rent or purchase. With stainless steel body trays, mobile morgue trailers are equipped with an electric generator and refrigerator, so coroners and medical examiners can be confident their standards and best practices are not being compromised during situations of overcapacity.
The spacious trailers have fold up/down racks for convenience and efficiency when loading and unloading.
Ensure your community morgue is prepared to handle any mass casualty situation with a mobile morgue trailer from MED Alliance Group.
Click here to learn more about mobile morgue trailers. Request a quote by calling 888-891-1200 or email us.
MED Alliance Group is an ISO 13485 certified medical device distributor dedicated to meeting the needs of its clinical customers and manufacturing partners by offering cost effective, customized sales, logistics and distribution solutions.
---
References