New, Cost Saving Product for Emergency Departments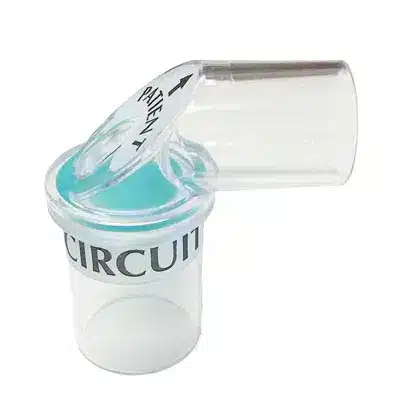 MED Alliance Group is excited to offer Mercury Medical's newest product, the 90° Anti-Asphyxia Valve Elbow. Not only does the new product save emergency departments money, it also creates greater efficiency and less waste.
The 90° Anti-Asphyxia Valve Elbow is an accessory to the Flow-Safe (CPAP) family of products. This new device easily and affordably converts Mercury EMS Flow-Safe® Deluxe CPAP Masks to non-vented Acute Care CPAP/BiLevel Masks.
EMS use a straight port mask for CPAP, while hospitals may opt to use a 90° Anti-Asphyxia non-vented Full Mask for CPAP and BiLevel therapies. Typically, a hospital will discard the mask that an EMS patient arrives with, and replace it with a new mask. Mercury Medical's newest accessory will enable emergency department staff to save time and money by simply attaching the new valve to the current Flow-Safe® mask rather than replacing the mask.
Utilizing the 90° Anti-Asphyxia Valve Elbow could save emergency departments up to $25 per patient.
MED Alliance Group is dedicated to partnering with manufacturers offering high quality, cost-effective and innovative medical devices that improve patient care. We are delighted to add the Mercury Medical  90° Anti-Asphyxia Valve Elbow to our portfolio of medical devices.
For more information or to place an order for the 90° Anti-Asphyxia Valve Elbow, contact your local sales representative, call 888-891-1200 or email us.