Disinfect Your Face Mask with CovaGuard Mask Sanitizing Spray
CovaGuard™ Mask is a spray that sanitizes medical face masks for up to four days by killing 99.99% of viruses and bacteria upon application. Spray a new mask to provide antimicrobial protection on the surface of the mask, or disinfect a used mask so it can be re-worn if needed.
When used as directed, the spray creates a film on the surface of the mask and does not interfere with or modify the waterproof or filtering properties of the mask.
The active antimicrobial ingredient, Benzalkonium Chloride (BAC), has been studied for more than 30 years and has demonstrated the ability to kill a number of viruses, fungi and bacteria including but not limited to:
SARS-CoV-1
MERS-CoV
Influenza
H1N1
H5N1
Acinetobacter baumannii
Escherichia coli
Klebseilla pneumonia
Staphylococcus aureus
Candida albicans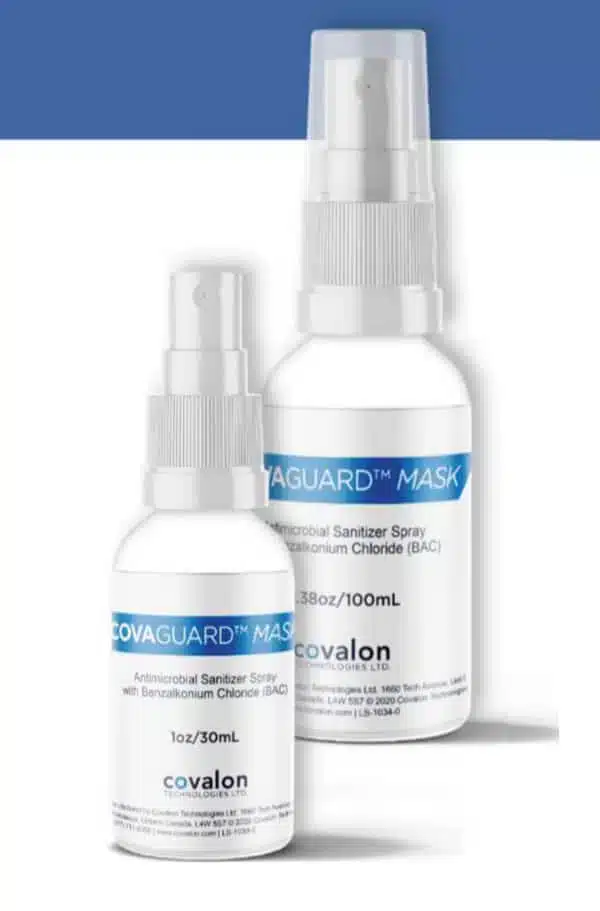 EASY TO APPLY
The protection is easy to apply by simply spraying the mask front with 2-4 sprays to coat the surface of the mask. Once the mask is dry, it is ready to wear, giving you added protection.

To learn more about CovaGuard™ Mask by Covalon, email us or call 888-891-1200.