Could Your Community Benefit from a Disaster Preparedness Grant?
The DHS Granted More than $1.6 Billion Last Year for Disaster Preparedness – Apply for Your Community Today
2017 was a year like no other in recent history with events that rocked the country such as natural disasters, mass shootings and crises where countless people lost their lives. With each major headline settling down, another devastating event would occur, and the cycle would continue. Some of the major headlines included:
Hurricanes Harvey, Irma, and Maria
The Las Vegas, Nevada and Sutherland Springs, Texas Shootings
The Opioid Epidemic
2018 has already started to follow suit. With hurricane season around the corner, The Weather Channel has predicted 13 named storms, six hurricanes and two major hurricanes for the year.1 There have already been 154 mass shootings halfway through the year2 and the opioid epidemic is still in full force.
Communities need to be prepared now more than ever for the unexpected, but with tight budgets it can be difficult for emergency response teams to afford the tools and equipment they need for disaster preparedness.
Luckily, grant money is available for disaster preparedness from multiple organizations. Just last year, the Department of Homeland Security (DHS) allocated more than $1.6 billion in disaster preparedness grant money to assist states, urban areas, tribal and territorial governments, nonprofit agencies, and private sectors in their preparedness efforts.3
The Department of Homeland Security isn't the only resource for disaster preparedness grants. Organizations such as FEMA, Lions Club International Foundation, Public Health Emergency, and many more offer monetary assistance to communities to not only prepare for disasters but to manage the aftermath as well.
In the event of mass casualties, emergency response teams must have a plan in place for managing victim's bodies. How are the bodies efficiently transported from the scene to the morgue? Where are the bodies stored if the morgue is overcapacity?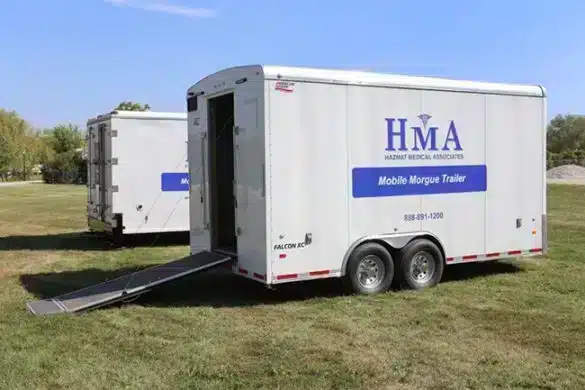 MED Alliance Group Mobile Morgue Trailers are designed to help in these situations and can be acquired utilizing disaster preparedness funding. With 20-24 stainless steel body trays, fold up/down racks, a generator and refrigerator, coroners and medical examiners can be confident their standards, best practices and the bodies left in their care are not compromised when using a Mobile Morgue Trailer.
To learn more about the disaster preparedness grants your community can apply for, please download our Grant List.
To learn more about Mobile Morgue Trailers, call 888-891-1200 or email us.
MED Alliance Group is an ISO 13485 certified medical device distributor with more than 350 years of combined medical device sales and distribution experience. Dedicated to meeting the needs of its clinical customers and manufacturing partners, MED Alliance offers cost effective, customized sales, logistics, and distribution solutions for products found in anesthesia/respiratory, blood/transfusion therapy, EMS/emergency room, interventional radiology/cath lab, iv/vascular and NICU/PICU.
Please follow us on LinkedIn, Facebook and Twitter for MED Alliance product updates.
References
1 https://www.phe.gov/emergency/news/healthactions/Lists/Public%20Health%20Emergency%20Declarations/AllItems.aspx
2 http://www.businessinsider.com/how-many-mass-shootings-in-america-this-year-2018-2
3 https://www.dhs.gov/news/2017/09/01/dhs-announces-grant-allocations-fiscal-year-2017-preparedness-grants